jeudi, juillet 24, 2008 Y
2:27 PM
mood:
tired

song:
Gravity - Sara Bareilles

dear loyal readers (if i still have one),

forgive my disappearance for the past four months.
i'm dropping my new address, in case you still love me :)

FINALLY MOVED TO WORDPRESS! (CLICK HERE)


---
dimanche, mars 23, 2008 Y
1:31 AM
let's go summer
mood:
still awake

song:
Across the Universe - Rufus Wainwright
*heaves a small sigh of relief* finally, i am now entitled to a three-week vacation... i almost thought i wouldn't survive PsychoWeek (i detest the fact they have to torture us by squeezing all the horrible tests and final exams -- read: accounting straight four days -- every time the semester's winding up). however, i am still optimistic that i will leave this gruesome chapter of my life without a scratch. (i might be getting really bad grades influenced by my midterm performance, but that's fine :p) ... to withstand all these purgatory thoughts, i am joined by my comfort food (namely: pizza, ice cream, cake, tacos, chips... and i have yet to unscrew that bottle of Bailey's Chocolate Mint but i'm saving it for clearance day), and watching my favorite movies and Simpsons DVDs. and i'm finally utilizing my w660i (Giorgio!) properly, feeding it with mp3s and videos and pictures and Michael Johns (who is mega- <3 !). i am going to be a bum, yes!
footloose and fancy-free... i spent the first day of my so-called freedom with a couple of my cousins to Ace Water Spa. i haven't gone swimming for a while now (the last time was notably in Boracay), and i haven't had any spa treatments yet, so this thing is quite a first. after much deliberation, we were up to our 'bare essentials'... and then i noticed my spaghetti top was somehow loosened from all the laundry wrinkling, but anyhoo. camouflaged thunder thighs check, we headed for the the pools. since i didn't have my contacts on, i didn't have to be so conscious about taking a dip, that was until i saw my top ballooning and the rim of my pants floating from the force of the bubble jets that i swear i couldn't keep my clothes on from the blasting. :P
comedy flubs aside, i enjoyed the whole experience. Des, who has been there before, told me that the must-dips are the herbal pools and the freezing tub. i wanted to stay in the freezing tub (because they didn't have any cold pools!), but then i might catch pneumonia harhar. the hydrotherapy pools (as they were called) lived up to their names, since you can get blasted on every point of your body, at least relieving the pressure points. what i liked most was the 'bed massage' where you lie facedown and there's a humongous stormy shower jet focused on your back; and the chest massage which i used on my head and neck, leaving me totally relaxed from all the tension mounting on my skull these few weeks. i was also quite proud that i got to swim four laps in the big pool... and i know how to do my 'bicycle backfloat' properly!
====
watched "Horton" yesterday. fun fun movie! easily likeable animation, and the humor is delightful. i swear i won't tire watching it. surely beats the mammoths of "10000 B.C." anytime (which really, really sucked!). :)
Libellés : vacation
---
jeudi, mars 06, 2008 Y
10:58 AM
Maroon 5 @ March 5: won't go home without it
mood:
very very pleased
song:
Sweetest Goodbye - Maroon 5
my brain's all mush and i'm feeling groggy, but nothing beats last night's concert! it's a first for me, and i'm very satisfied and happy one of my biggest wishes was fulfilled this soon! MAROON 5 ROCKS!
(photo courtesy of
RuNeFiRe (really good shots!)
)
dispatches from last night:
(i can't organize my thoughts, haha. save for a latter post!)
companions: S. (aka my mom, who's also a fan ha!) and A. we were already at the Araneta by 5pm! finally got inside around 6:20pm

the show started around 8:45pm (no front act), stunning us all. the place was suddenly packed (or i didn't notice them coming!)

the setlist was just as planned. there were 14 songs.

recap of songs: If I Never See your Face Again, Makes Me Wonder, Harder to Breathe, The Sun, Can't Stop, Secret, Shiver, Wake up Call, Sunday Morning, Won't Go Home Without You, This Love. encore: Little of Your Time, She Will Be Loved, Sweetest Goodbye

somehow i wished they also played Nothing Lasts Forever and Back At Your Door (Thailand had 16 songs!) but then i'm not exactly complaining. ;)

i wasn't expecting that they'd be good live, but they surpassed that expectation by a mile!

"If I Never See Your Face Again" is a great opener. "are you ready Manila?" wooooo!!! and Adam counting in accentless tagalog!

ergo, Adam Levine: *speechless.*

my favorite member James Valentine was the rock god of the night -- he was so awesome and hyper! he and adam was just rockin' hot!

Jesse (my other favorite) was really enjoying the whole thing. Mickey was banging, and Matt (who replaced Ryan) was super, he even had a solo before the encore!

the crowd vibe went up a notch as they sang "Sunday Morning" (9th track) and from then on. the band felt the love!

"Won't Go Home Without You" was the obvious highlight of the night. Adam fell silent and had a big smile while everyone was singing the chorus over and over.

i thought they'd be done with "She Will Be Loved", but then i guess the gods must've heard my plea and had my all-time favorite "Sweetest Goodbye" as the finale. i was so ecstatic. XD

lasted approximately 1 1/2 hour. quite short but i am dead happy.

for all the singing and screaming and bobbing and stomping and catcalling and on-high adrenaline mood i had last night, i acted surprisingly normal today. i even got to class early (even if i'm a zombie and all)

their concert was great timing for me. (it were held any day next week, i'll be damned!) again, the universe conspires with moi! hahaha.

---

... the concert's still looping in my head! what a night to remember. LOVE LOVE LOVE!<3

**on edit: i guess this'll have to do for now. need internet withdrawal. save the fangirling after the finals! :p


---
mercredi, février 20, 2008 Y

12:20 PM

good vibrations


mood: energetic


song: Mr. Blue Sky - Electric Light Orchestra

a roundup of my January: i spent almost 3 weeks down in a state of exhaustion and depression (total mental and emotional breakdown, man!), and not only that, i fell sick on the last week due to salmonella! (it was really horrible.) i guess all these stemmed from the slew of activities we've had (quizzes, the prelims, the research paper, projects, overall anxiety from schoolwork) and that i haven't been well-rested since christmas vacation. those awful days also brought the worst of me, and i thought i could never recover.

so after what has seemed to be the crappiest month of my entire life, things have slowly started to breeze the right way. something tells me that everything will be f-i-n-e!

----

... need i say that february 13 was one hell heaven of a lucky day!

fresh from the euphoria of getting a 98% on our much-devoted research paper the other day, and seeing my crush (woo!) that morning, i thought the fun ended there. so my friend L. and i went surfing on the internet after lunch. i mindlessly scrolled around and decided to check my Gmail account, which i rarely use. imagine my shock when i actually had new email -- and from Sony Ericsson!

backstory: December 21 friday afternoon, when i got hold of the Philippine Daily Inquirer's Dec 19, 2007 paper. my favorite Lifestyle 2bu! section. (that was the weekly youth section that got my "Vertical Challenge" published) had a feature on the new Sony Ericsson walkman phones, and a contest was open and they were giving away the phones! ... the task was like: what music do you listen to while commuting / on the road. make it funny and unique, and you win! deadline is December 22 midnight --- i have only hours left to submit!

being the consummate dilettante that i am, i grabbed a pen and paper and started squeezing my brains out, thinking about all my commuting heaven and hell. i wasn't even in the house that time, so when i got home that evening, i zoomed to the computer and banged away what was supposed to be my entry. it's funny i rode the usual public bus that night, only giving me much more food for thought. (90.7 Love Radio, anyone?)

so i sent in my entry at about 10:40pm of Dec 21. whew!

[[ Click here to read the contest entry. ]]

shameless plugging : while you're at it, do check out The HT Project as it's been newly updated. :)

[[ and here's the email they sent. ]]

upon reading it, shock swamped all over me and i was nudging L to read it too. OMG, I WON!!! ^.^;;; ... my brain zoomed in all places and i couldn't stop squirming in my seat. it took me several minutes to digest (yeah right haha), and started writing my reply. i was overcome with a joyous feeling, because i knew i wanted the phone all along. well to be honest the news came unexpectedly, and due to the many unfortunate events the past month i felt despondent about the contest (i thought i didn't win, and that a month has already passed since), and so i threw the Dec 19 article away. who'd da thunk?

[[ The January 30 announcement ]]

when i got home i called up Sony's PR firm and got the details. they actually published the winners last January 30 (my salmonella week), and i was the only one who hasn't claimed the prize yet! and so i hurriedly called my parents, and silly enough, my dad volunteered to go with me to claim it -- the next day, Valentine's Day! what a lovely coincidence. i was absolutely thrilled when we got there and claimed it, and to be able to actually see and feel the phone (wahaha i've never won anything like this!) was so surreal.

i remember telling my parents the day i sent that entry that i was positive i was going to win it. a Sony Ericsson was always my dream phone, and i really poured my energy out, even with the limited time and the fatigue. miracles do happen! therefore i say: never underestimate the power of the mind. :)

because i'm still speechless right now, the medium is the message: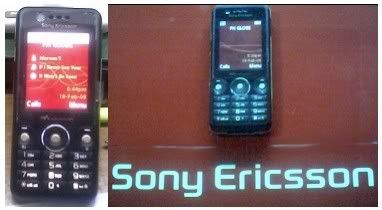 ~~ I LOVE MY W660i!!! ~~



====

and one last thing that made my Feb 13 crazy: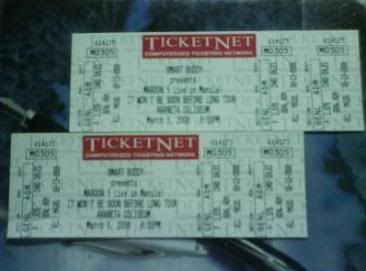 we finally got tickets for the Maroon 5 - Live in Manila Concert!
i thought we were never going to watch it anymore. countdown: just 2 weeks away (march 5 baby!)!!! i will be loved!~~


---